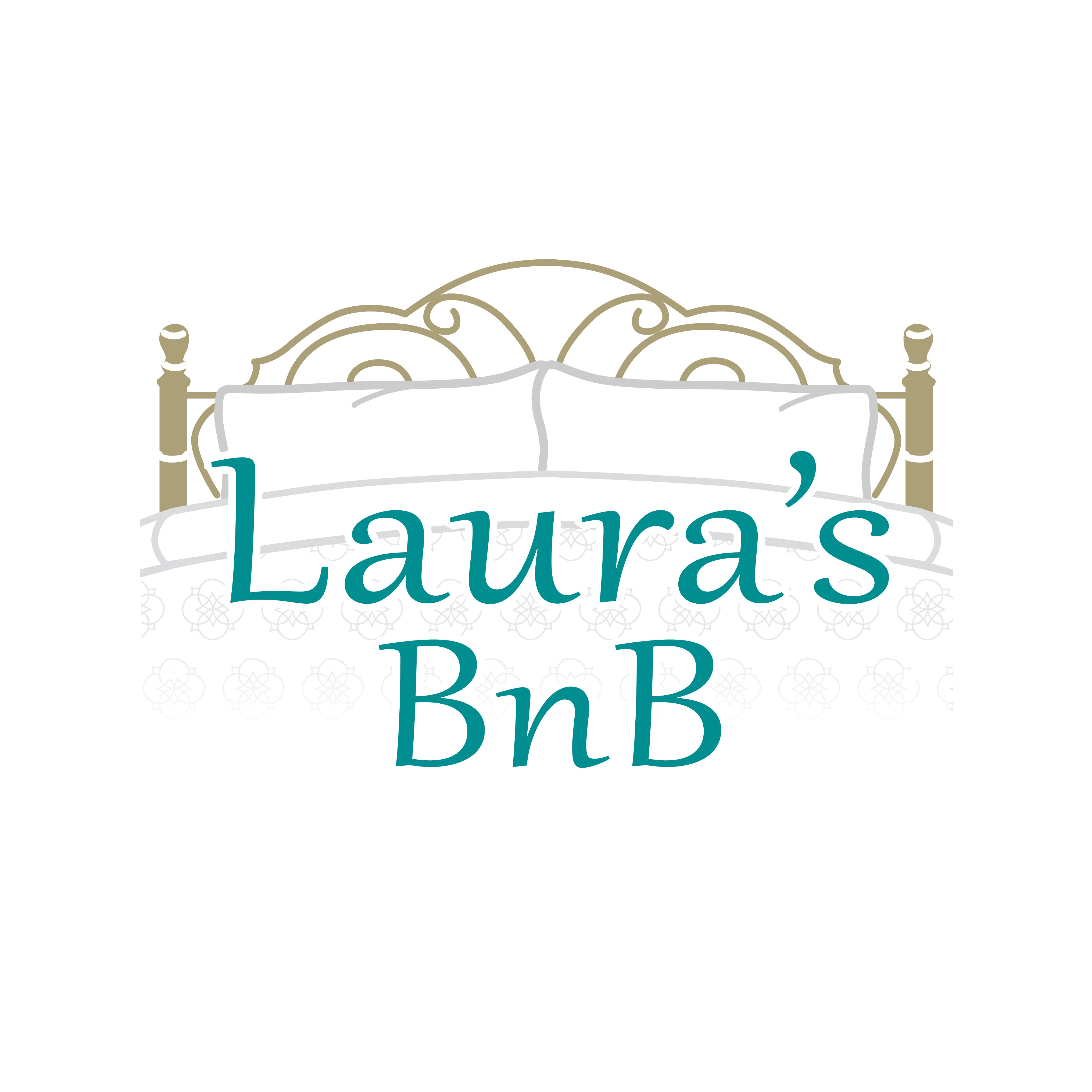 Style and Comfort in Pyes Pa, Tauranga.
Hey there. Welcome to Laura's BnB.
At Laura's BnB we care about how you feel and take pride in providing you with the best possible accommodation experience.
We believe when you are away from home, you deserve to stay somewhere that meets your tastes and needs while nourishing your well-being.
Enjoy the freedom of travelling with your dog knowing that their needs are also met.
You have the choice of two stylish and comfortable guest rooms with their own ensuites, external entrances and off-street parking.
Relax and take care of yourself while away from your regular healthy routines with Laura's tasty wholefood home-made meals, specialty treats and 'Oh the coffee'. Make use of our home gym and our community pools and courts.
Whether you just want to relax, see the sights or be a bit more adventurous, Laura's BnB is a great venue from which to base yourself and enjoy the stunning Bay of Plenty. Located 15 minutes from Tauranga CBD and 25 minutes from the Airport. This tranquil, unique 'home away from home' is in beautiful Pyes Pa. Popular near-by locations include the Tauranga Crossing Shopping Mall, Aquinas College and Grace Hospital.
King Room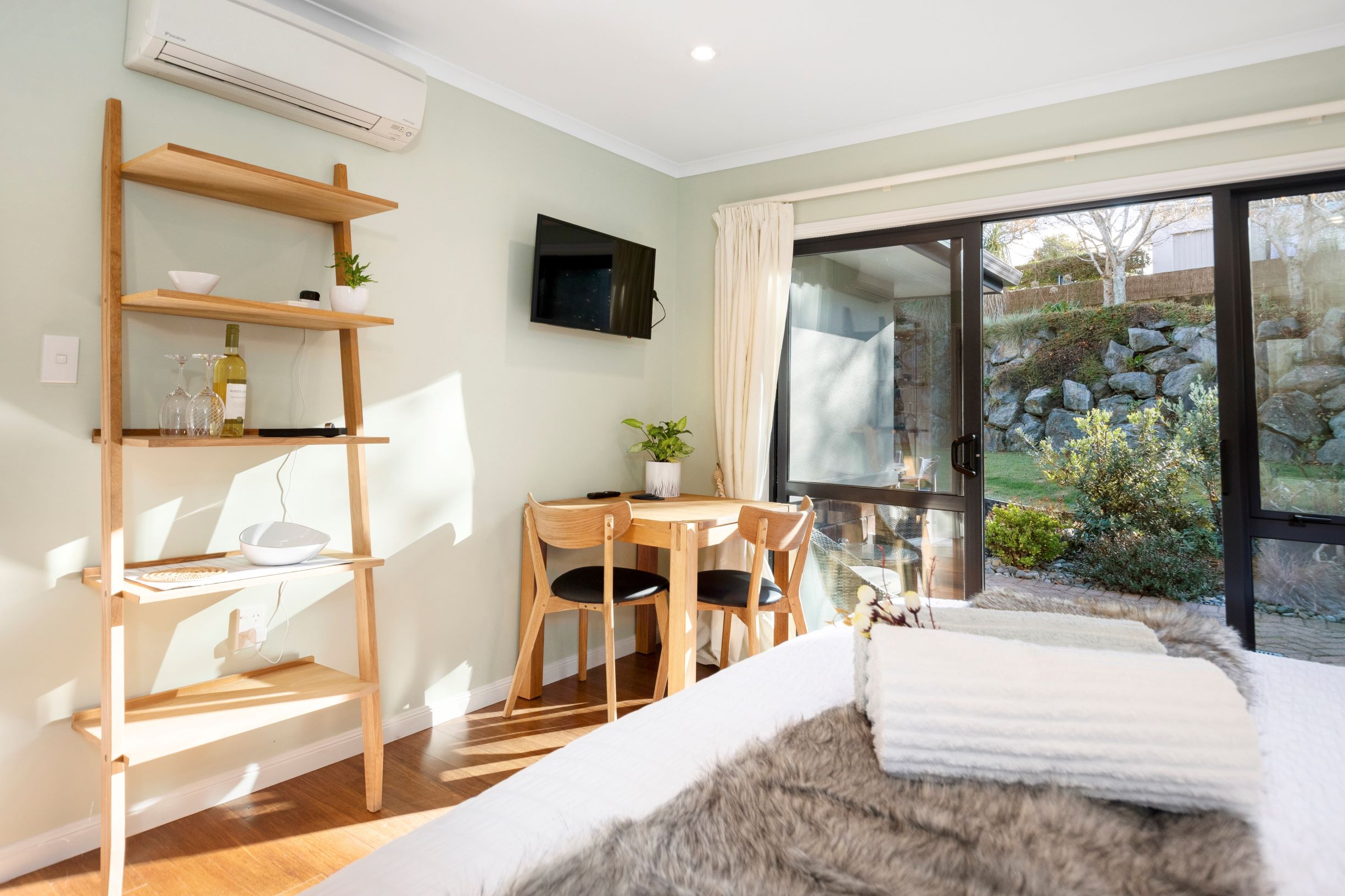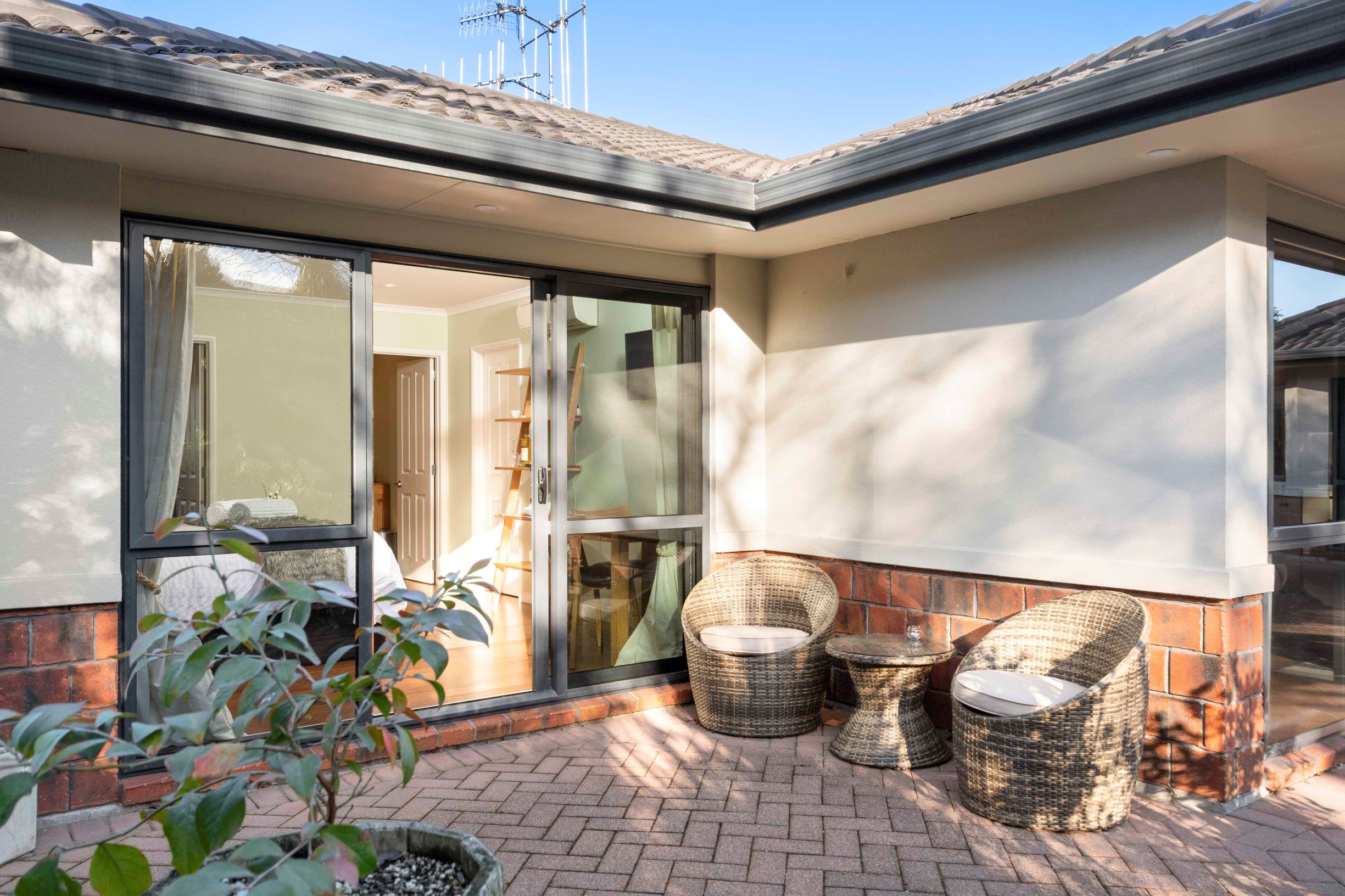 Queen Room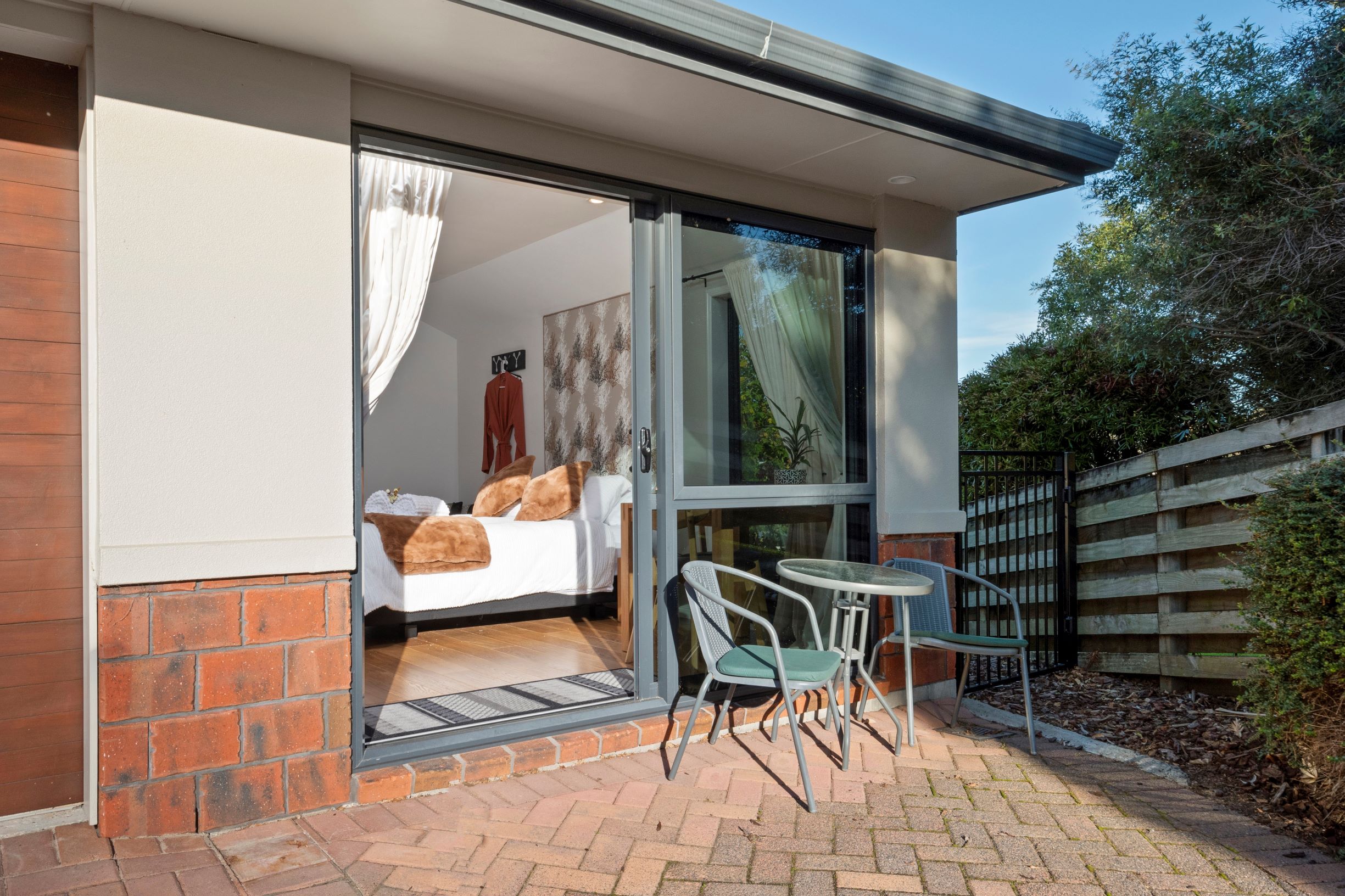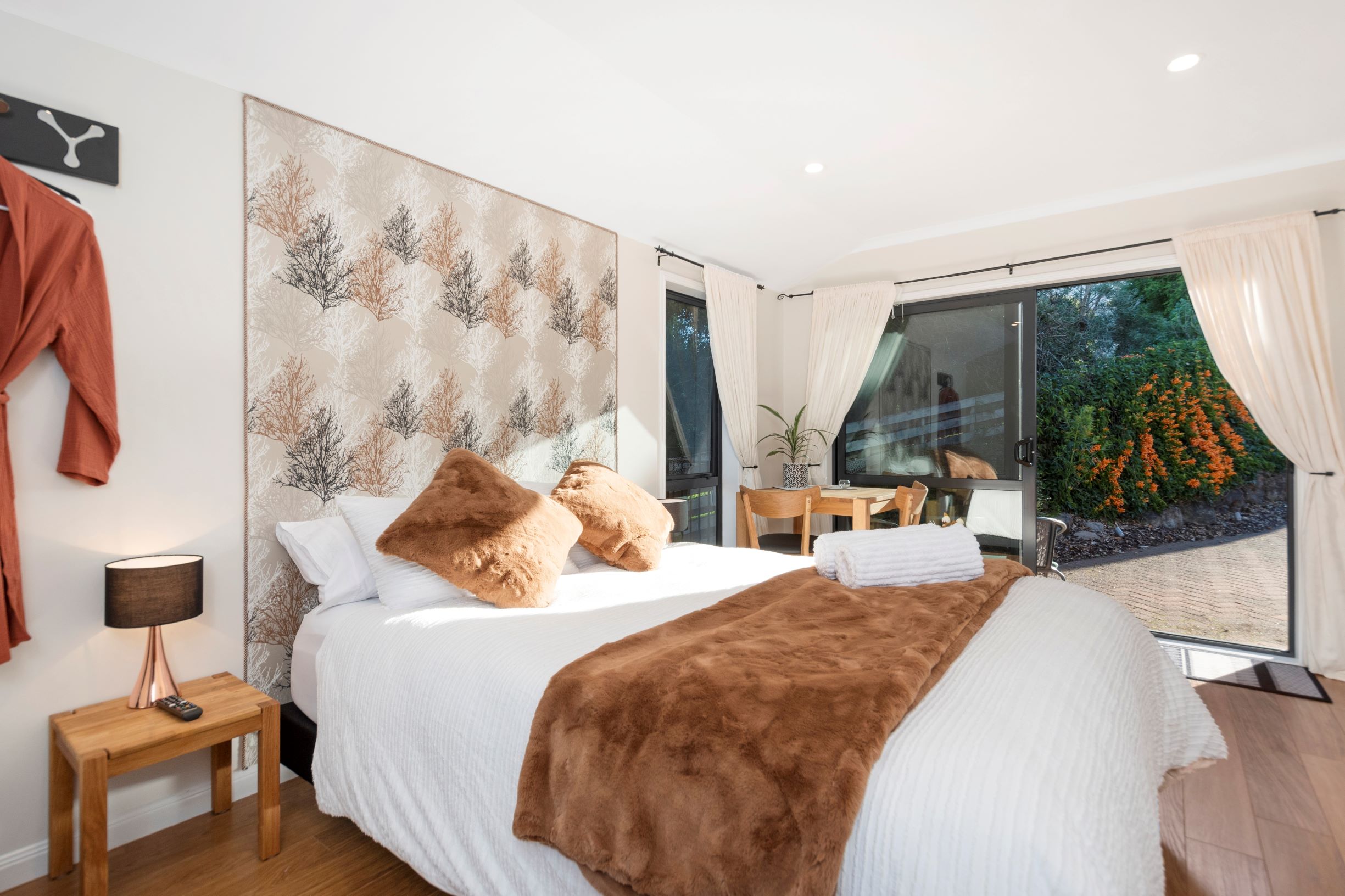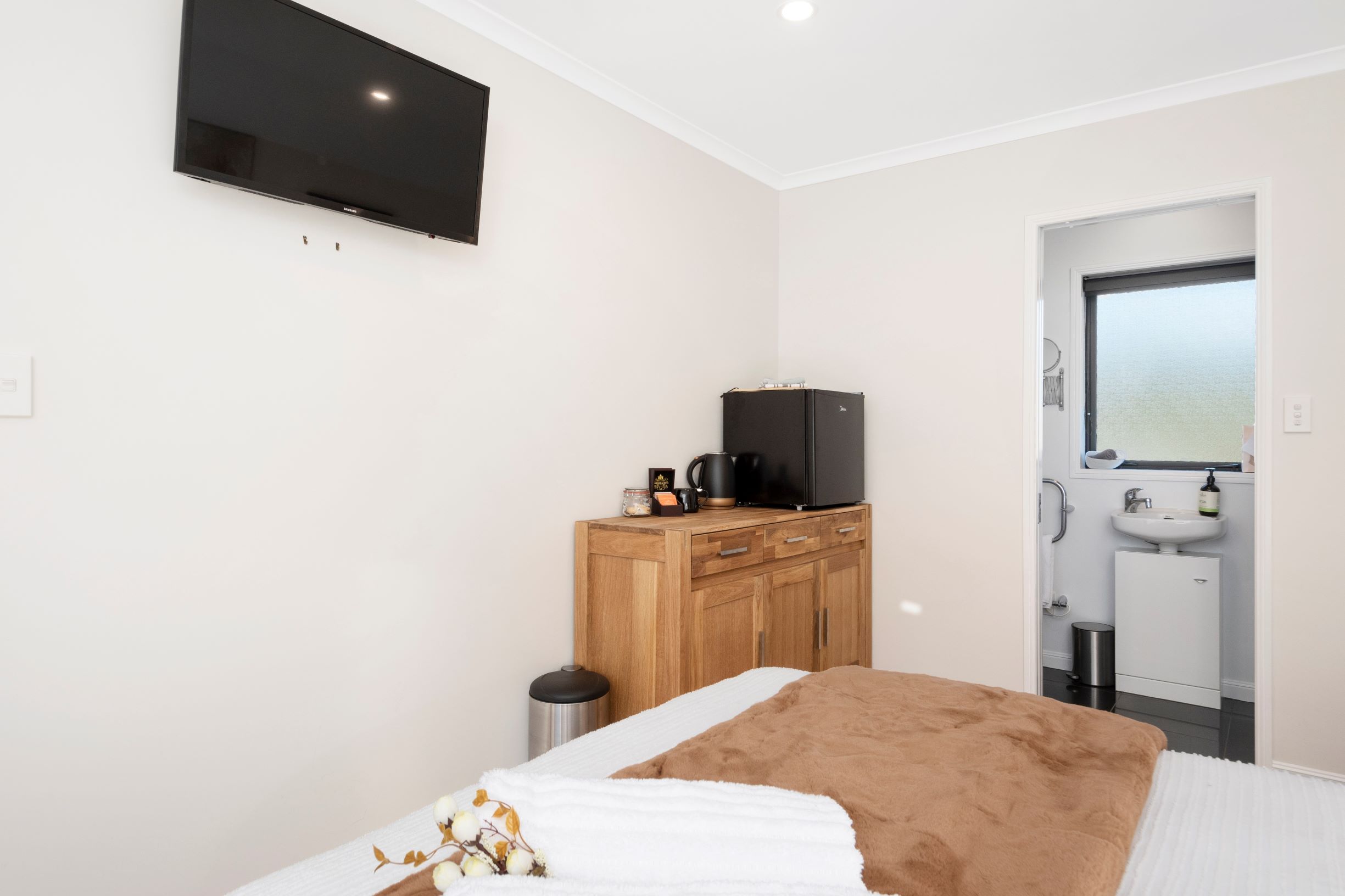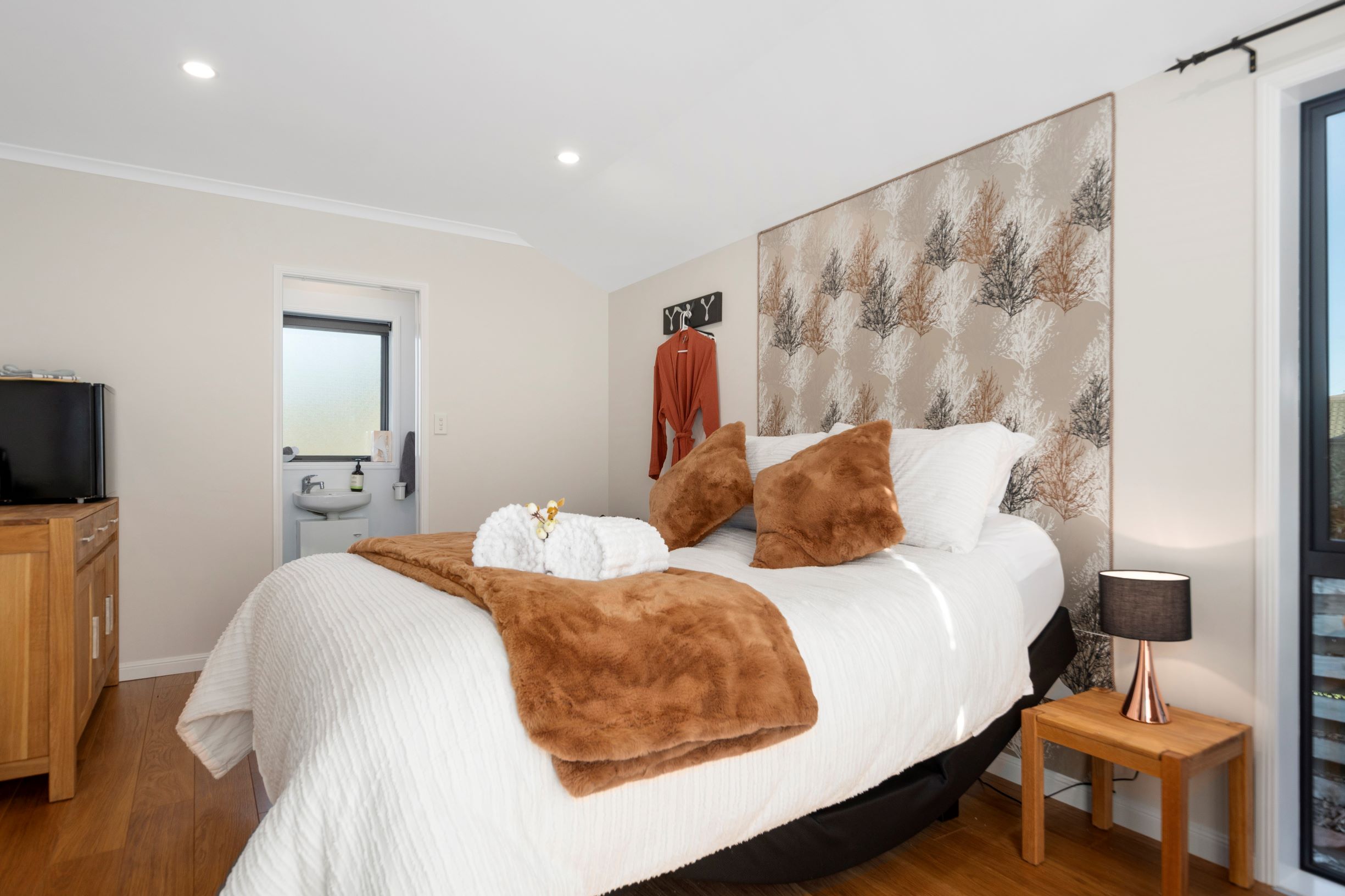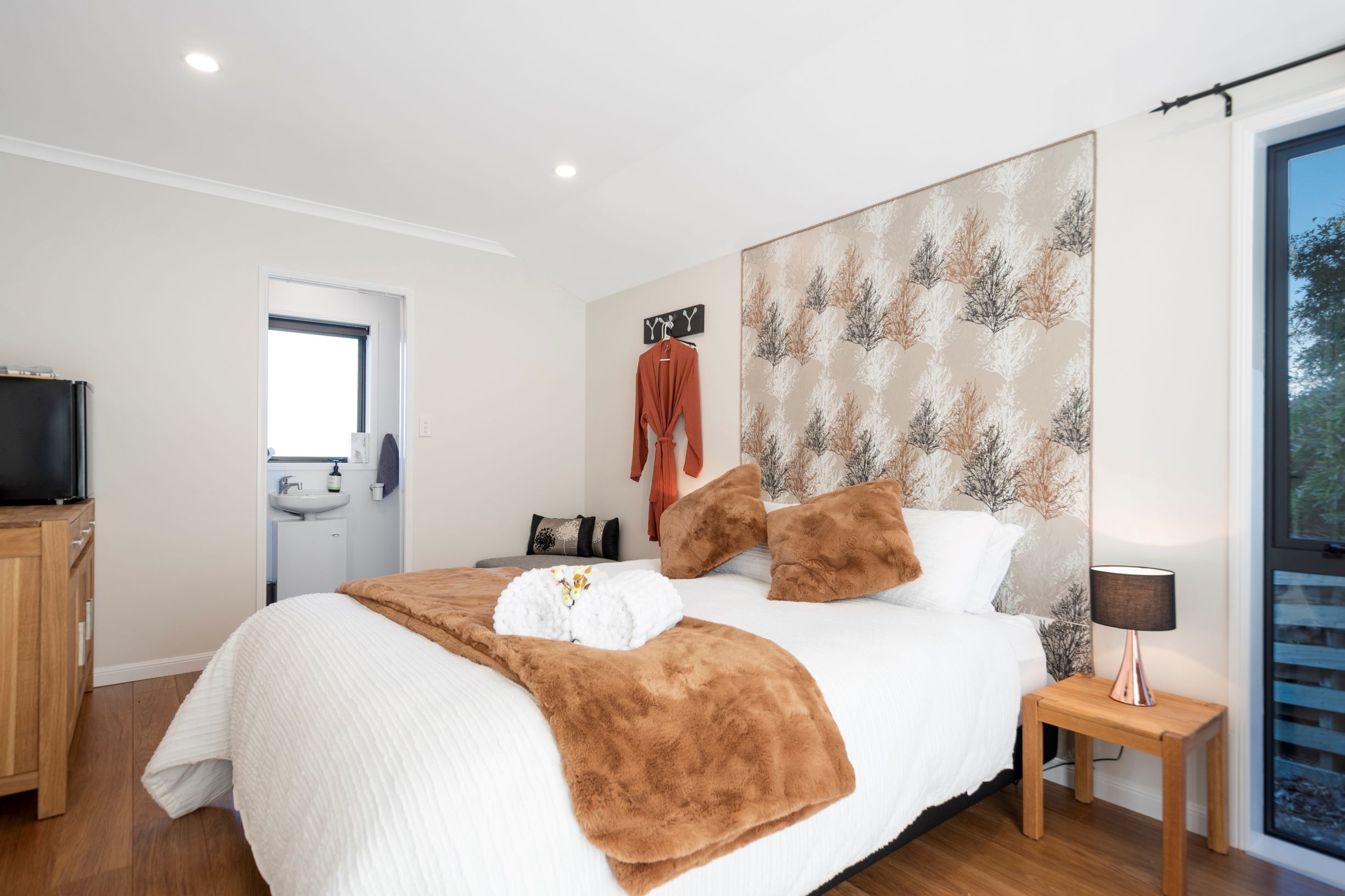 Both our rooms are ground level without stairs and include:

Daily room service (including dishes) at 11:00am unless you request otherwise.
Private access and off-street parking.
Private patio area and various outside sitting spaces including a hammock.
A supportive and comfy King or Queen-sized bed with quality linens.
Private ensuite bathroom with shower, toilet, vanity, heated towel-rail, quality towels and hair dryer. We supply 'Suken' hair and body products.
Complimentary coffee, hot chocolate and a range of specialty teas (or better still, let Laura bring you one of her legendary fresh-made coffees)
A bar fridge, microwave, kettle, toaster, plates and cutlery.
Dining table with two chairs.
TV with access to Netflix, Youtube and Youtube Music. Guests can connect their own device via Chromecast or Bluetooth.
Free high speed WiFi internet access. (200mbs download/300mbs upload)
Heatpump heating/cooling A/C.
Catering
Enjoy a variety of Laura's tasty home-cooked meals. She is happy to cater for a variety of dietary needs such as vegetarian, keto, sugar-free, vegan, meat lovers or sweet-tooth.
Whether you just want a fresh brewed morning coffee or you wish to be catered for all day, Laura can take care of your specific food needs.
Breakfast options include the best fresh produce the Bay of Plenty has to offer with something to suit everyone. Check out the Breakfast Menu.
Home cooked meals can be prepared and left in your suite ready to reheat and enjoy should you be working late or keeping odd hours.
Alternatively, there's a great variety of eat-in or takeaway food options only 800m away at the local Pyes Pa shopping centre.
Eat in your room or join your hosts Laura and Mike at our dining table for some added conversation.
Warning! Keep an eye out for Laura's little extra surprise culinary treats!
Dog Friendly
Are you a dog travelling with your owner? Well look no further. We have a secure fenced yard for pets to be shared with 'Guide Dog Mack' and 'Georgie the cat' (Guardian of the plum tree). If pets are not your thing, then this is possibly not the place to stay as we cannot guarantee that Mack or Georgie won't make a social visit at some point during your stay.
Dog minding service (by arrangement). If you need to work or are attending an event during your stay talk to us about our furry friend minding service.
Other Facilities
Other facilities include use of the on-site gym equipment and access to swimming pools (October-April).
About the Gym — Whether you are wanting to maintain your fitness while away from home, or you need to burn off the frustrations of a busy day of work or travel, or you just want to not feel as guilty for what you have already eaten, or are about to eat (Yes that's a valid reason), or even if you just want to post a photo on Instagram or Facebook of yourself supposedly working out to convince your friends that you have done more than spend all day consuming coffee, chocolate and Netflix. (Hahaha Go you!), then take advantage of our on-site home-gym area.
The equipment includes a Treadmill, Concept 2 Rower, free-standing boxing/kick bag (including wraps and gloves), rebounder, assorted dumbbells, medicine ball, foam roller, yoga mats, various stretchy thera bands and skipping rope.
There is plenty of room here to securely store any of your sports items such as bikes, kayaks or golf clubs etc, that you would rather not leave outside with your car.
Reviews
Thanks to Laura, we finally have stylish, high quality dog friendly accommodation in Tauranga.
Laura is a natural and effortlessly charming host.
The rooms are immaculately clean and tastefully decorated with all the personal touches. Great shower pressure, Wi‐Fi, Netflix, heated towel rails etc.
We enjoyed Laura's excellent breakfasts sitting in the peaceful fenced garden while our GSP dog played with his new best friend Mack, Laura's lovely Black Lab.
We will return.
Tony and Tina, Bay of Plenty.
Read more of what our guests have to say on our reviews page.
We look forward to having you stay.
For room rates, availibility and bookings, please call me on +64 27 477 7701 or email us.
Laura